Responsible person: PhDr. Ján Beljak, PhD.
Project duration:  1.8.2018 – 30.6. 2022
Registration number: APVV-17-0063
Coordinator: Institute of Archaeology of SAS
Investigators: Doc. PhDr. Noémi Beljak Pažinová, PhD., PhDr. Eva Fottová, PhDr. Ján Hunka, CSc., Mgr. Kristína Kučeráková, PhD., PhDr. Pavol Maliniak, PhD., Mgr. Dominik Repka, PhD., Mgr. Katarína Šimunková, Mgr. Matej Styk, PhD.
Annotation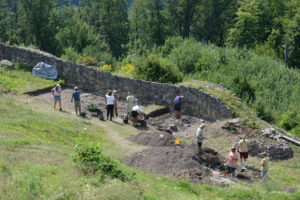 There has been a trend of activities connected with restorations and reconstructions of castles in Slovakia in recent years. This resulted in statically stabilized ruins of castles but also complex reconstructions. Archaeological excavations are conducted along the building activities. They are documenting changes of castle areas during different times and they are accumulating important cultural resources from which we can learn more information about development of castles and former settlements. Findings need to be scientifically evaluated and opened to the public. This cannot be done without the help of archaeologists, historians, architectural archaeologists, landscapers and other specialists. This is the reason why the project team is composed from different types of scientists who are in the meantime also conducting their own researches and excavations in several castles around middle Slovakia. Within the project castles in historical regions Tekov, Malohont, Zvolen, Novohrad and Gemer-Malohont will be solved. Goal is the complex evaluation of acquired archaeological and historical finds, as well as written and cartographic resources. The focus will be also on study of historical (anthropogenic) landscape structures in the vicinity of the castles with the help of modern technologies. The results will contribute to the precision of chronology, generic diversity of material culture but also to better understanding of the history of everyday-life of castle inhabitants.