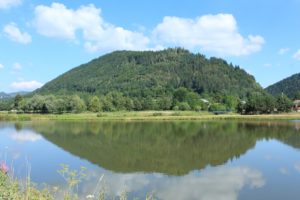 1. Hillfort Veľký vrch in Divinka. In cooperation with Považské múzeum in Žilina were concluded not only two months lasting systematic terrain excavations, but also one month lasting rescue excavations. Database of finds was made based on the previous seasons of excavations, artefacts were also documented in photographs and drawings.
2. Nová Bystrica. First phase of survey focused on finding the relicts of past iron production in cadaster of the village of Nová Bystrica, part Vychylovka was started. In area of today´s open air museum were found numerous traces of the iron forging.
3. Lidar scanning. In cooperation with external contractor continued the aerial scanning of chosen parts of Kysuce region by the end of the fall season. This year, 142 km² area was scanned. Acquired raw data will serve as a starting platform for further surveys.
4. Budatín castle. Work processes connected with graphic documentation of the past excavations of Budatín castle were finished. In cooperation with Považské múzeum in Žilina was concluded collective monograph about the evolution of Budatín castle from the medieval until the recent days. It is the result of interdisciplinary research of this medieval and early modern monument that as a seat of nobility heavily influenced the development of settlement structure of the region researched in this project.